Mizuno Mujin TL Gore-Tex Launch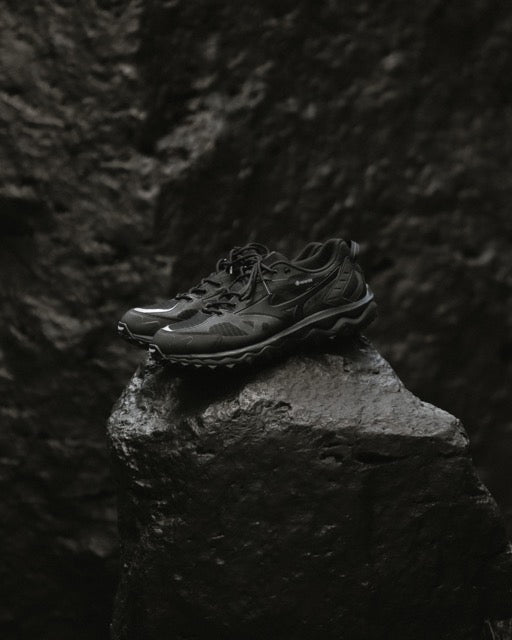 Founded in 1906 by brothers, Rihachi and Rizo, Mizuno was the bi-product of a shared love for Westerly sporting culture at Osaka's heart. As momentum grew, so did the brand's industry-wide grasp on a number of popular sports - breaking bread between the likes of athletics, tennis, golf and football to name but a few. Since day one, progressive product has been created for some of the world's most highly-regarded athletes, paying particular attention to sustainability via elevated production and focus on performance-tech thereafter.
Adopting designer, Tuan Lee's initials as a series-determining suffix, the Wave Mujin TL is the Mujin-line's sixth instalment - an iteration that combines age-old sketches with an extra grippy Michelin outsole below. Tuan's unreleased foundational guidelines were primarily rendered in a monochrome palette-scheme, or taking on a light camouflage print.
Sporting an upper designed by Tuan Lee and sole patterned with Michelin lug, the Wave Mujin TL has taken another step in the direction of adventure - not for the first time, mind. Tranquility is a trait, rather a state, that Mizuno often looks to prioritise when planning season of footwear tied in for the long run. It's not by chance. To further elevate the formation of natural tension, waterproof GoreTex technology has been added into the Mujin TL's durable recipe - sitting pretty between ripstop mesh and panels of thermo-panelling. Ultimately, taking pride of place as the cherry on top for our Japanese Sportswear brand. Built for the concrete jungle and adventures one step beyond in equal part. his is not a pair to be kept in the box.
Launching Online & In Store Friday 27th October 2023 in two colour ways of Triple Black and Tiger Eye / Black. This is not a pair to be kept in the box.